Hard though it is to believe, but in February next year, a mere 15 weeks away, it will be 8 years since Oscar Pistorius, famed paralympian, murdered his model girlfriend, Reeva Steenkamp. Students of mine, past and present will be all too familiar with the case (I make sure of it, annually 😉) not just because of my intrigue and continued fascination (obsession???) with the Criminal Law (in any jurisdiction) but also because of its' remarkable similarity with Cawthorne v HMA (1968) ScotHC HCJ_1. For fellow devotees of such matters, this was the case principally responsible for the creation of 'wicked recklessness' in murder charges. Anyway, I digress.
About a week or so ago, the BBC started the promotion of a new four-part documentary, 'The Trials of Oscar Pistorius'. In a quite extraordinary 'trailer/press release', (alas, sadly since removed or I would have printed it here) it failed to even make a solitary utterance of murdered Ms Steenkamp by name. Instead, preposterously, indignantly and with breathtaking arrogance (and a massive heaped tablespoon of misguided judgement), it twittered on about Pistorius's 'remarkable' achievements, lavished praise that had been (years before) thrust on him by Nelson Mandela and an extraordinary insistence that he maintains he 'didn't do it'.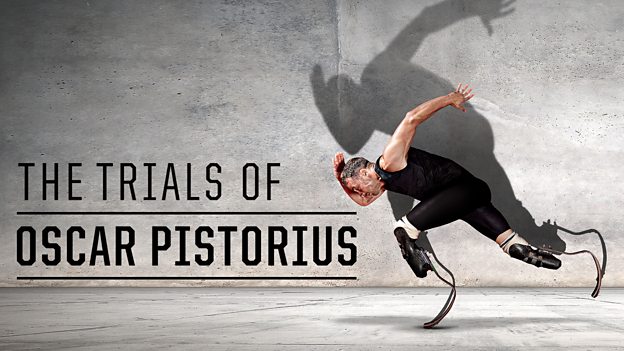 But it didn't stop there. It continued that the forthcoming four-parter, (above), would tell the 'extraordinary story' of, wait for it, 'an international hero who inspired millions' until he 'suddenly found himself at the centre of a murder investigation'. Who writes this utter guff? Equally, if not more importantly, who checks it? Why, I hear you say, is this such an issue as to merit a blog post?
Well, I am concerned that there may be an undercurrent in the BBC's haplessness and mishandling of all this. Is this yet another shameful attempt to somehow paint a convicted murderer (and in this context a perpetrator of domestic violence) as the victim? The press release showed eye-watering insensitivity and has done little to aid the cause of domestic abuse, globally. In actual fact, closer scrutiny of the original release illustrates that not a single mention was made of his victim nor even his conviction for murder. Had you not been a law student or interested party, you might have even been forgiven for thinking he had been acquitted.
Pistorius was a violent control freak. He discharged his high powered handgun six times that fateful night and hit Ms Steenkamp with four shots as she cowered in the corner, frozen with fear. He had a history of menacing behaviour towards females with an ex-partner giving evidence that she was locked in a house by him for hours at a time and forbidden from having access to food. Deviant behaviour including stalking and harassment of the ex-partners parents. And, of course, the small matter of a murder conviction and a 13 year prison stretch. His trial was littered with impossibilities, fantasies and , well, lies. Forensics and ballistics showed that.
The BBC has, in my opinion, done untold damage with this release which could easily be interpreted as trivialising, ignoring almost, the appalling level of domestic abuse that is all too common in society. Pistorius almost appears to have elevated to sanctity by us being reminded of his hitherto 'hero' status and his 'inspirational' journey. Like so many other males, why are we principally told that they were fine men, loving, doting fathers and generally 'great guys'? Perhaps they were once, though one doubts that, but what they do possess is a history for bombarding female partners with a sickening level of violent, malevolent behaviour, all too often resulting in their death.
Two women a week in England are killed by their partners. In Scotland, during 2018-19 there were in excess of 60,000 incidents of serious domestic abuse, almost 85% of which were committed by men against women. These are deeply worrying statistics and indicates it is a major problem in this country and regularly being unaddressed, it would appear.
Take the case of Claire Parry who was killed in May by a serving Police Officer after she disclosed their affair to his wife. He refused to plead guilty to murder and indeed was ultimately convicted of manslaughter (culpable homicide) after Ms Parry died from strangulation although Brehmer said it was following a 'kerfuffle' in his car. A kerfuffle is a 'commotion or fuss, especially one caused by conflicting views'. But Parry died from strangulation, which he said was 'accidental'. Seems an extraordinary perspective from which to view this case.
Yet again there appears to be an extremely unhealthy viewpoint from which many are viewing crimes of this nature. Until we view them markedly differently, my fear is that these heinous acts will continue to be underplayed.
And that must not be allowed.