A well known UK high street law firm have recently conducted a survey of some 2000 individuals in Britain and the results indicate that an eye-watering 40% claimed they knew of someone who had been a victim of so called 'revenge porn'. The data suggests that the figures have doubled since 2019. This is extremely troubling and reinforces, yet again, how much society's deviance appears to be running amock in the UK.
As is clearly explained above, 'revenge porn' is 'sexually explicit material that is publicly shared online without the consent of the individual, with intent to shame and embarrass'. But the effects often result in considerably more than 'shame and embarrassment'. There have been a surfeit of instances in the UK (and globally) where the devastating effect of this disgusting, spiteful and very dangerous practice has led many to the brink of suicide.
Whilst males can, of course, been on the receiving end of such repugnant behaviour, this is, principally a crime that affects women. Again. The UK is really beginning to etch a most unwelcome reputation for itself in its apparent misogynistic ways.
Currently, the UK's only specialist support comes in the form of a 'Revenge Porn Hotline' which has a staff of three and only one of whom is full time. It is there to take calls from exceptionally distressed individuals, many of whom, as I have said above, are suicidal. Three staff.
The number of revenge porn cases has doubled over the past five years or so but it is still thought to be a woeful underestimate as the vast majority of victims do not report the matter feeling a sense of shame and embarrassment. This so called 'dark figure' of crime can be hiding some mind-boggling figures. Data emerging globally suggests a major problem with the US who have published statistics that indicate almost 13% of adults have experienced it in some form. Here, in Britain, the helpline indicates 70% of victims are female.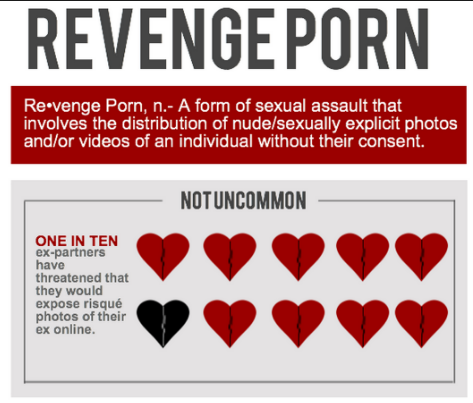 Yet again, this appears to be an area where a lack of true understanding may be contributing to the scale of the problem. Indeed the very term 'revenge' in itself may be something of a misnomer. 'Revenge', grammatically, has the implication that the wrongdoer have themselves been wronged are seeking some sort of retributive justice. But this does not accurately reflect the range of apparent 'motives' that have been seen. Astonishingly, the law firm mentioned in my opening paragraph conducted a preliminary investigation into the issue only two years ago, when they discovered that such issues were being cited when divorce proceedings turned somewhat toxic. In other words, there is no 'revenge' here at all. It is a monstrous example of people using such intimate and private depictions for maximum pain, hurt, humiliation and offence. The human psyche is, yet again, showing more signs of being deeply disturbed.
When you add in to the mix the fact that many men see this behaviour as 'laddish' and 'just for a laugh'; the UK, once more, finds itself in highly questionable territory when it has to examine how its own citizens exhibition of behaviour (and in particular behaviour towards women) is called into question. Yet again we are seeing the depiction of females in a very subordinate and dismissive light. Yet again, many who simply refuse to accept the issue of equality, to say nothing of privacy and dignity. This is misogyny.
Some 40% of these awful incidents emanate from an ex-partner and it is truly incredulous to think of such behaviour from people who were once a 'partnership' and often who are parents. Threats of this nature to severely intimidate a fellow human are nothing short of an appalling example of domestic abuse, in my opinion, and, whilst there is existing legislation, the peril of up to two years in jail (in England and Wales) is a woefully inadequate deterrent. Here in Scotland the Abusive Behaviour and Sexual Harm (S) Act 2016 (which came into force in 2017) has a maximum prison sentence of five years for the sharing of images without consent. But, in respect of both jurisdictions, are these punishments sufficient given the lifelong consequences that victims endure?
This monstrous and contemptible behaviour is, once again, as much about wielding power as anything else. Founded almost certainly on the cornerstone of coercive and sinister practices with control at the heart of it.
There is a deeply concerning increase for spiteful and revenged-based behaviour nowadays. Individuals who have no moral filter whatsoever, whether motivated by the exponential rise in social media or an increase in television and film depiction. However, we are in danger of descending into utter freefall as our lack of morality, decency and a knowledge to know the difference between right and wrong becomes blinkered by our obsession with control and having the last word. At any cost.
This is not the fault of the victims, as I have disturbingly read whilst prepping for this blog. It is solely the fault and responsibility of the lowlife degenerates that post these humiliating images and who do so solely to satisfy their own voracious appetite for control. This depraved conduct must be stopped immediately.
I am glad to see that within the last week or so, the government has indicated that it will review the matter urgently. No doubt prompted by other events, it is nonetheless welcome news to see someone focus their attention to really what is an utterly atrocious practice.
Stay safe.