The joys of 'Delict' with particular emphasis of all those old nuggets of 'negligence', 'duty of care' and 'reasonable foreseeability' are the current topics being delivered by Mr. O. An inescapable mention of 'that snail in that bottle in that café' is always necessary and, if truth be told, wonderful! Teaching Delict without Donoghue is simply 'not right' 😉
A natural extension, however, is to progress to 'nervous shock'. Exemplified by, inter alia, Bourhill v Young (1943) AC 92 (strictly concerning the scope of liability to those not directly involved with an accident) and especially McLoughlin v O'Brian (1983) 1 AC 410.
The litigation in regards to today's case originated as a consequence of the horrific events in Sheffield in April 1989. Liverpool were playing Nottingham Forest in an FA Cup Tie when a crush occurred claiming the lives of 95 fans (this would later rise to 97 with two further deaths after the event). Policing of the match was the responsibility of South Yorkshire Police. They allowed entry to an excessive number of Liverpool supporters at the 'Leppings Lane' end of the ground. Consequently, with a grossly excessive number of fans in an area designed for far fewer, the ensuing commotion caused a catastrophic crush and multiple fatalities occurred with hundreds more injured.
The game was live on TV (relatively rare for the time) and the ensuing carnage was inadvertently beamed into millions of homes throughout the country.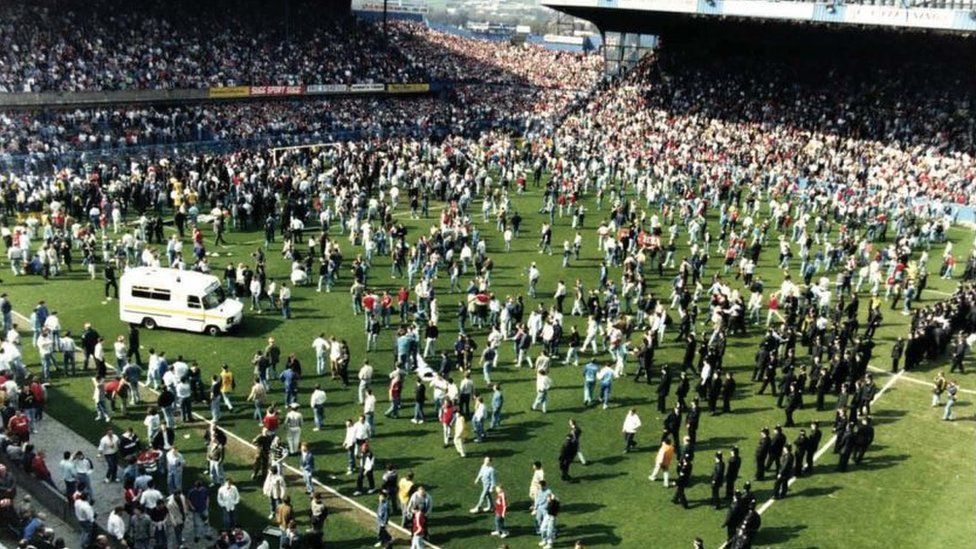 Ostensibly, this legal case required significant input by the medical profession vis-à-vis 'psychiatric illness'. The House of Lords (as then was) had already determined this in McLoughlin (supra.). Here, with so many potential claimants, it was effectively looking at the concept of PTSD.
The cases of Bourhill and McLoughlin have many overlapping aspects. Neither Pursuer 'witnessed' the accident and, in certain respects at first glance many have questioned whether either should have been successful. But whilst the holding in Bourhill was that the late Mr. Young could not have been expected to 'have had (Mrs. Bourhill ) in his contemplation' – in the Atkinian sense – there was that very expectation in McLoughlin, although it should be noted she was successful on appeal to the Lords having initially been unsuccessful in her claim.
It is perhaps somewhat easier to see why when you examine the relationship which, after all, is central to the whole issue (
even more vital following the ruling in Alcock). The law was effectively saying in Bourhill that Young had no duty of care to her as there was 'no relationship' that would obviously and overtly result in her being seriously and psychologically affected. Nor did Young have any duty of care incumbent upon him in terms of the 'damnum' maxim. However, in McLoughlin, it is hopefully easy for us all to agree that being told one of her children had been killed in a road accident and the rest of her family seriously injured would in all probability for us all, give rise to substantially more than a 'mere fright'.
Fearing the floodgates might open, the Lords were nonetheless on the horns of a dilemma. Whilst there were perfectly valid (and understandable reasons) for there to be a deluge of claims following Hillsborough, a 'line had to be drawn'. Accordingly, they 'developed' McLoughlin and separated 'primary' victims' from a new 'secondary' victim, with three pretty stringent stipulations.
A primary victim is, of course, self-explanatory. That refers to those who have suffered psychiatric injury after being directly injured in an accident (or put in fear of suffering an injury). A secondary victim is one who has witnessed the distressing events but has not been directly involved. The litigation stemming from the Hillsborough disaster has shaped the law in this area but has also attracted much criticism. In a set of fairly narrow circumstances, a secondary victim can have a successful claim provided that:-
the 'injury' is caused by the shock of 'sudden appreciation by sight or sound of a 'horrifying' event, which 'violently' agitates the mind – (perhaps a Bourhill-esque reference)
there exists a 'close tie of love and affection' with the primary victim(s) – (a clear nod to McLoughlin) and
the individual claiming was 'sufficiently proximate' to the event in time and location – (a reference as to why so many failed in the Hillsborough case)
Bourhill and McLoughlin were both, therefore, 'secondary victims' but whilst the latter met all three conditions, as per Alcock, (Alcock v Chief Constable of South Yorkshire Police (1991) UKHL 5 (1992) 1 AC 310) the former did not.
What is clear from Alcock is the clear intention of the law to limit unfettered litigations which (perhaps) are nothing more than a spurious attempt at claiming 'psychological distress and/or damage'. What is less clear is, that while this judgement is nigh on 30 years old, it does not factor into account the exponential rise of social media and the voracious appetite of so many to see shared images with the most gruesome and grisly depictions of all sorts of calamities, including death. I suspect that as we continue to evolve as a society and enhance our understanding of, inter alia, 'psychiatric damage', further advancements and perhaps subsequent interpretations of the common law may be required.
Stay safe everyone.